Toyota Is Set to Overhaul Its Off-Road SUVs & Trucks, Report Says • Gear Patrol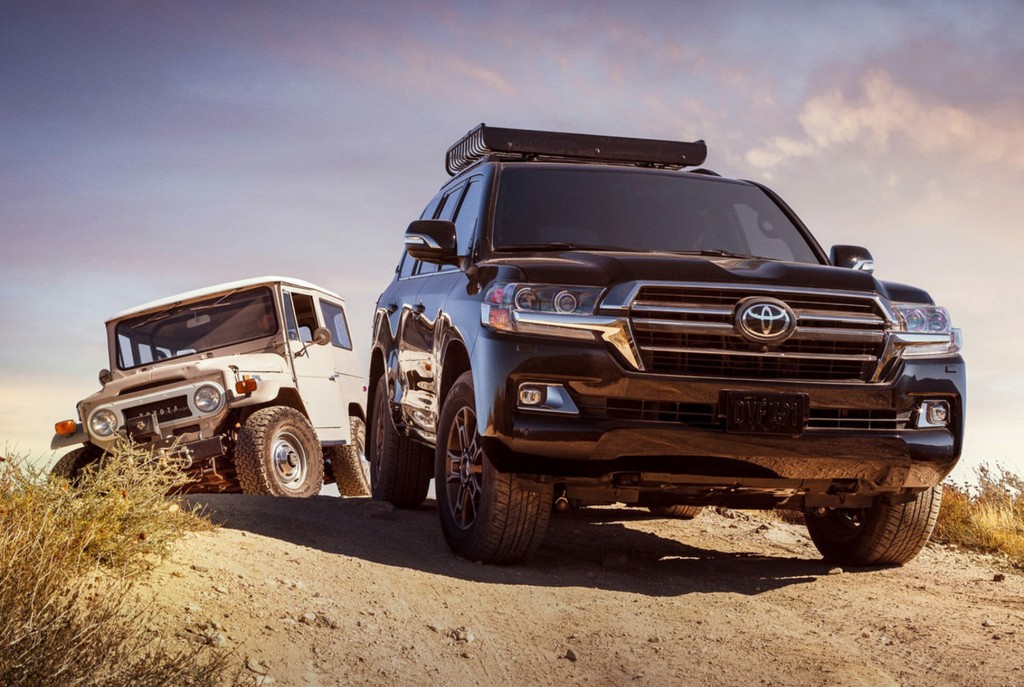 It seems Toyota may be planning on implementing some awfully big changes to some of its best-known models. Motor 1 recently spoke with an alleged Toyota insider, who offered some insight on company planning for future models of some of our favorite Toyota vehicles — including, most interestingly, new versions of the Land Cruiser and the Tundra pickup.
News about those vehicles and other upcoming Toyota and Lexus cars are below. Before you ask, though: no, there's no word about a manual transmission Toyota Supra.
Toyota Land Cruiser
The Land Cruiser will reportedly receive changes many have been crying out for. Namely, it will be a dedicated off-roader, instead of a luxury yacht. The next generation will allegedly have just five seats and be significantly cheaper. The report did not provide a launch date.
Toyota Tundra
A new generation of the Tundra full-size pickup will reportedly arrive in December 2021 for the 2022 model year. It will run on a new TNGA-F truck platform, and replace the aging V8 with a twin-turbo V6 hybrid in top-trim forms.
Toyota Tacoma
The next-generation Tacoma is reportedly going to arrive in 2024. Toyota could potentially unify the model with the Hilux that's sold internationally. No word on whether the now ancient six-speed automatic transmission will depart.
Toyota Sequoia, Toyota 4Runner
New versions of Toyota's two aging SUVs will reportedly arrive in 2022 for the 2023 model year. Those models, for the record, were last overhauled in 2007 (the Sequoia) and 2009 (the 4Runner).
Toyota RAV4
The Toyota RAV4 will reportedly be refreshed for the 2022 model year.
Toyota 86
A new version of the 86, developed in partnership with Subaru, will reportedly arrive in July 2021 for the 2022 model year. It's expected to use a 255-hp turbocharged boxer-four.
Toyota Camry and Avalon
The Camry will allegedly receive a refresh for the 2021 model year and a new generation for 2024. The larger Avalon sedan will reportedly be refreshed for 2022.
Toyota Corolla Cross, Toyota Venza
Toyota will reportedly launch a new Corolla-based crossover (think Subaru Crosstrek) in September 2021 for the 2022 model year. A new crossover reviving the Venza name is also expected to arrive around the end of 2020.
Lexus GX
The Lexus GX sport-utility vehicle will reportedly stick around in its current form until 2022, with a replacement arriving the following year.
Lexus LX
The next version of Lexus's giant off-roader will reportedly be very different from the current, largely-identical-to-the-Land-Cruiser version. The report describes it as more analogous to the Bentley Bentayga than any Toyota, offering far more luxury than the current model.
Lexus LC-F
Toyota and Lexus will allegedly ditch V8 engines in cars costing less than $90,000…but that won't affect an LC-F set to arrive in 2022 with a new twin-turbo V8.
Lexus LS, GS, ES
The Lexus LS and ES sedans will allegedly receive a refresh for the 2022 model year. Lexus will reportedly axe the poor-selling GS model from the lineup.
SOURCE:https://gearpatrol.com/2020/03/16/new-toyota-land-cruiser-tundra-details/